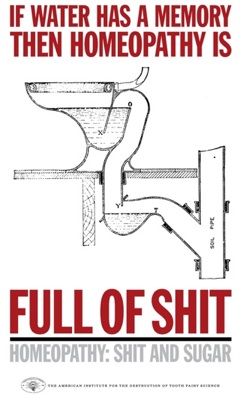 I'm usually quite an amiable person. If someone comes up to me with an idea that sounds like bullshit, I'll usually smile politely and say something like "That's very interesting, it's great that it works for you" and then continue about my day, thinking nothing of it. Occasionally though, these ideas have an impact on my life, sometimes through the ones that I love.
Illnesses run in my family. Really annoying ones. I'm scared of breast cancer, bi-polar depression and IBS. When a dear aunt of mine went to see a "specialist" for the third one, we thought little of it, as we know how annoying it can be. She came back all excited, she had some special drops to take 3 times a day, it was all very thrilling. She'd get out a tiny handbag sized bottle, tilt her head all the way back and drip the potion down her throat, feeling better almost instantly. A few weeks later, however, she discontinued use of this "specialist" as it was costing her an arm and a leg, and actually wasn't doing much. "That's private healthcare" we all muttered.
Since finding out she'd gone to see a homeopath, the rest of the family have been rather bored of hearing anecdotal evidence of it working for other friends. "Yeah, great, works for you" is the uninterested response from them. More recently though, I've been hearing and reading things about it that are beginning to upset me, and piss me off a bit.
It's annoying for my aunt, with a frustrating but not life-threatening condition, living in London with a decent salary and all the trappings to be drawn in by homeopahthy and pseudo science - annoying because we have at our disposal a wide range of resources to check the facts. What gets my goat (and the farmyard animals of many others) is stuff like
this
, where quacks are either deliberately or naively recommending tripe to the vulnerable, whose illnesses are life threatening.
It's not just homeopathy, there are other practices, like
chiropractic
and
acupuncture
, claiming to cure things without any substantial evidence. Evidence, that-thing-wot-doctors-need-to-make-people-feel-better. You know, EVIDENCE, so that when I'm in a lot of pain, I can be relatively assured that the thing that someone suggests as a way to be in less pain is going to work. EVIDENCE.
In the words of the great Mr. Minchin:
"What do you call alternative medicine that works...? Medicine!"
I'm bored of quacks furiously defending their chosen professions without backing it up with evidence.
I'm not talking about the testimonies of the people it has worked for
, I mean a serious double or triple blind trial, with no self-serving interests involved. I genuinely want to believe that some of these alternative medicinal practices work, so that they can be provided on the NHS - IF THEY WORK. I hate all this "Alternative versus Biomedical" assertions. If everyone's trying to help people, and that is their goal,
why are the BCA so reluctant to make their evidence public in the Simon Singh case?
(scroll down for the bit about the "plethora" of evidence - by "plethora" do they mean "absence"?)
Urgh! I'm annoyed now. Where's my Bach's Remedy and Relief? Oh wait. It's turned into a bottle of brandy. That'll do.